Smithfield Dental Implants
If you're missing teeth – whether one or many – let our Smithfield dental team restore your smile with dental implants, the preferred tooth replacement treatment.
What Are Dental Implants?
Restoring your smile sounds great, but maybe you're left wondering what dental implants are, exactly. Dental implants are small titanium posts that we insert into your jaw in place of missing teeth. The titanium is biocompatible, which means the post fuses with the jawbone over the course of a couple of months, giving you a strong, secure replacement for the tooth root. Once the implant has fused with your bone, you'll come back to our office and our team will fit you for a restoration to cover the implant. Your restoration can be a dental crown (for single-tooth replacements), a dental bridge (for replacing a couple of teeth in a row), or an implant-supported denture. Our Smithfield dental care team will work with you to decide which restoration is right for you.

Our Smithfield dental care team will work with you to decide which restoration is right for you.
---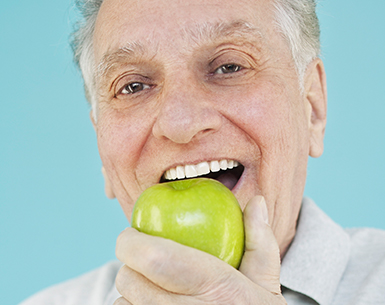 Benefits of Dental Implants
Dentists and patients alike are turning to dental implants increasingly over other tooth replacement methods like bridges or dentures. Why is that? Implants offer our patients numerous benefits over less permanent restoration methods like bridges or traditional dentures.
Implant Benefits
Long-lasting when properly cared for
Strong and secure, so you can eat whatever you like without fear
Look, feel, and function like natural teeth
---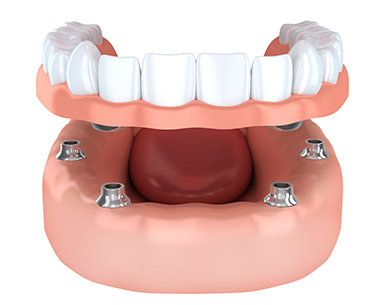 Implant-Supported Dentures
Patients missing most or all of an arch may benefit from implant-supported dentures. Unlike traditional dentures that use messy adhesives to stay in place, implant-supported dentures click into place on top of mini implants. These mini implants, just like traditional implants, are placed into the jaw and allowed to fuse with the bone, so you have a secure base for your dentures to rest on.
Say goodbye to clicking, slipping, uncomfortable dentures.
---
Patient Experience After Implants