Dentures in Smithfield, VA
Gaps in your smile can interrupt every day tasks such as eating, speaking, and smiling with confidence. At Smithfield Dental, we offer flawless full and partial dentures to complete your smile and boost your self-esteem. With improved comfort and wearability, dentures are a long-lasting solution for tooth replacement. Schedule your consultation with our expert team today!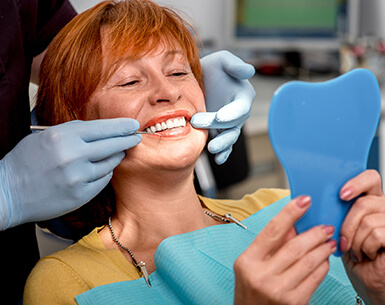 Traditional Dentures
Dentures consist of an acrylic, gum-like base with false teeth attached to it. Traditional dentures are attached with dental adhesives that secure the prosthesis in place. With the ability to customize the shape and size of your false teeth, dentures will look uniquely your own while restoring function.
---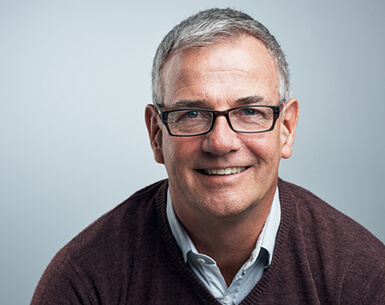 Implant-Supported Dentures
As an alternative to traditional adhesives, we can stabilize dentures with dental implants. Dental implants are small, titanium posts that are fused with your jawbone to provide stabilization to a restorative piece—in this case, dentures. Your prosthesis will be securely attached to the implants to eliminate slipping and shifting throughout the day.
---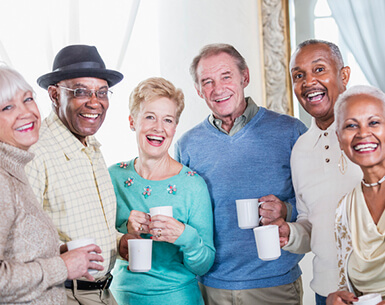 Affordable Dentures
We understand that restorative dentistry can be intimidating when thinking in financial terms. We offer several avenues for payment in an effort to provide you with access to high-quality, affordable dental care. We work with a variety of insurance providers and will happily file and track your claims for you. If out-of-pocket costs are your concern, we also offer third-party financing through CareCredit ®, LendingClub ®, and GreenSky ®. For those who would rather keep their financing with us, we also offer in-house payment plans.
---
Dentures FAQs
What types of dentures are available?
The two types of available dentures are full and partial. Full dentures are used to replace an entire arch of teeth, while partial dentures are intended to replace only a few missing teeth.
Are dentures only for older people?
A common misconception about dentures is that they're reserved for elderly. This is certainly not the case. Dentures are a viable tooth replacement option for all ages.
Are dentures painful?
Thanks to advancements in technology, dentures are more comfortable than ever before. However, it is normal to experience moderate discomfort after having teeth extracted and wearing new dentures. This pain will subside once healing is complete.
How do I keep my dentures clean?
You should brush your mouth and dentures with a cleanser at least once per day. At night, soak your dentures in water or a denture solution. It's also important to remove your dentures after eating so you can rid your mouth of leftover food particles.